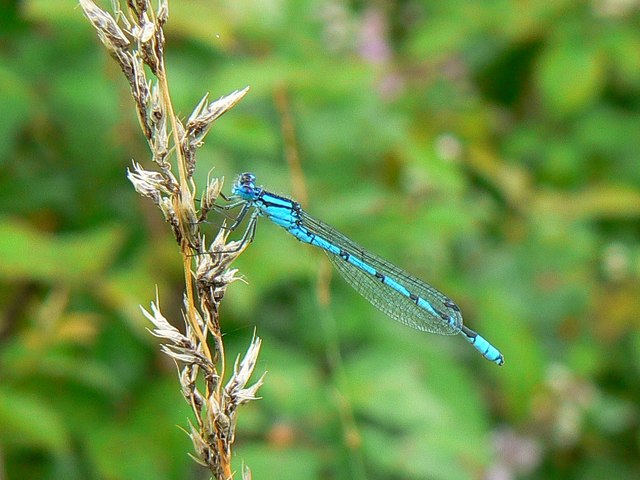 Damsel, near South Cerney by Brian Robert Marshell,
CC-BY-2.0
.
During the sunniest part of a July afternoon, on our local tributary, I have encountered smaller sized floating damsels, both red and blue. I watch in amazement as they swoop down like Apache helicopters, and pick on mosquitos, and adult midges that are either just above the surface or stuck in the surface film. What is intriguing to me is the notion or perspective gained of the limited presence of damsel or dragon flies near running waters in fly fishing literature. Most literature on the subject is typically confined to stillwaters. For instance, in Dave Hughes's
Handbook of Hatches
(2005) he states "Damselfly adults are present on all stillwaters, all across the continent". Is it possible that the focus on stillwaters is largely due to a lack thereof interest in damsel/dragonflies by trout in running waters? To answer this question I had to tie up a respectable pattern that would entice river-life trout.
Wind thread back to the barb of size 14 dry fly hook.
Tie in thin piece of 2mm foam near barb.
Tie in size 14 River Rd. Creations Cutter - Caddis/Ant body at point.
Tie in one peacock herl and hackle.
Wind herl and hackle to 1/3 from eye and cinch down foam.
Use the foam cutter to stamp out wings from thin packing foam, which are lined up. Use a drop of adhesive to ease the process.
Fold the foam over so it secures the wings and half-hitch your thread at the head. Markings are made with a black Sharpie.
Top view